FREE SHIPPING WITH PURCHASE OF RM200 AND ABOVE
Reward Points & Referral are part of our rebate program to be used as a cash discount when you purchase. Earning points for every order placed, points for referring a friend, double point reward days, and some surprises along the way
Sign up as our member you are entitle to get
10% OFF

coupon gift on your first purchase!
How Reward Points Work

Shop
Shop for your favourite éPure Product

Earn
Earn points for each purchase
RM1 = 1 points

Redeem
Use points for cash discount for your next purchase.
500 points = RM5
Sign up as éPure member, you are entitled to exclusive rewards & privileges:

Earn Points for Every Purchse
+ RM1 = RM1 you pent

Celebrate your Birthday
+ 2000 points

Refer to a Friend
+ 1000 points

Write Product Review*
+ 500 points

Double Points on Reward Day or Selected Product

Some Surprises along the way
*Only on the product you buy. *Only limit 1 time review for each product. Only available for each approved review.
How Referral Points Work

Refer a Friend
Sign in your account and go"My Account" > "Referral Program" to fill in your friend's name & email address

Special Reward to your Friend 10% OFF + Extra 1000 points
Your friend register as our member, they will receive 10% off welcome voucher and extra 1000 points after place their first order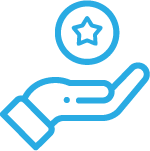 You Earn 1000 Points
You earn 1000 points after your friend register and place their first order. There is no limit points you can earn.
Redeeming Your Points
Reward yourself by redeeming your points for cash discount when you purchase, points are redeemable at every 500 points:

500 points = RM 5

1000 points = RM 10

1500 points = RM 15

2000 points = RM 20
*Shipping not included